Best Kratom Blends: Kratom and Matcha for More Energy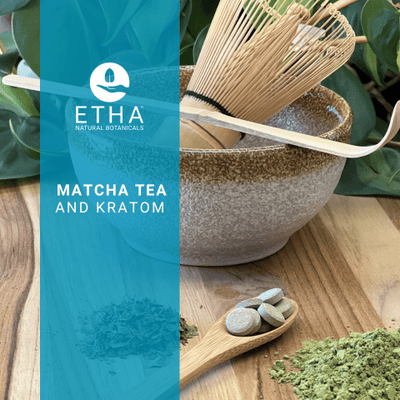 Matcha is a high-grade green tea ground into powdered form. Matcha, like all true teas, comes from the leaves of the Camellia sinensis plant. However, the tea leaves are cultivated and processed differently than any other tea and have a unique nutrient profile. Matcha has skyrocketed in popularity, from shots and lattes to even desserts. It can be found everywhere from health stores to coffee shops.
Farmers grow Matcha by covering their tea plants 20–30 days before harvest to avoid direct sunlight. This increases chlorophyll production, boosts the amino acid content, and gives the plant a darker green hue. Once the tea leaves are harvested, the stems and veins are removed, and the leaves are ground up into a fine powder known as Matcha.
Matcha contains nutrients from the entire tea leaf, which results in a greater amount of caffeine and antioxidants than typically found in green tea.
Studies show Matcha contains a variety of benefits and can potentially protect the liver, promote heart health, and even aid in weight loss.
As with all natural products, results vary from person to person. What may work for some may not work for others. As such, results are never guaranteed. Nevertheless, the following are some benefits associated with Matcha:
MAY AID IN WEIGHT-LOSS: Some studies show that green tea extract helps increase metabolism & fat burning, both of which may aid weight loss. Though most of the studies were focused on Green Tea extract, since Matcha comes from the same plant, it should have similar effects.
HIGH IN ANTIOXIDANTS: Matcha contains a concentrated amount of antioxidants, which may

 

reduce cell damage

 

& prevent chronic disease.
MAY PROTECT LIVER: Studies in animals and individuals have shown that Matcha may

 

promote liver health

 

through decrease of liver enzymes, a marker for liver damage.
BOOSTS BRAIN FUNCTION: Various studies have shown Matcha to improve

 

attention, memory, &

 

reaction time. It also contains caffeine and L-theanine, which can improve several aspects of brain function.
MAY PREVENT CANCER: Test tube and animal studies have found that the compounds in matcha may

 

inhibit growth of cancer cells.
MAY PROMOTE HEART-HEALTH: Green tea has been shown to reduce levels of total and "bad" LDL cholesterol, as well as triglycerides, and it may also help prevent the oxidation of LDL cholesterol, another factor that may protect against heart disease. Likewise, drinking green tea has been associated with a reduced risk of heart disease and stroke.
Matcha + Kratom = SlimFit
At 
ETHA
,
 we make it a point to pay attention to our customers and retail partners suggestions. After all, that is how some great products, such as 
Pet Kratom
, and 
Midnight Dream
 were inspired and born. Therefore, when recommended to combine Matcha with our 
high quality kratom
, we thought…Let's Do it! Take one great thing, combine it with another equally great, yet different in benefit thing, and magic happens. As such, 
"SlimFit Blend"
 was born.
ETHA SLIM FIT tablets and ultra-fine, nano powder are made from 100% pure Matcha Green Tea and the highest mitragynine ETHA Kratom. This combination may reduce appetite, increase metabolism, promote fat burning, increase energy, and improve physical activities for a healthier you.†
Additionally, many people find that the combination of Kratom and Matcha is enjoyable and leads to increased social ability, motivation, and perhaps even euphoria.
†
And now thanks to ETHA it is easy to enjoy with our unique, convenient, easy-to-take, 
pressed tablets,
 or ultra-fine nano powder.
Benefits of Matcha and Kratom Together
Kratom and Matcha can be a great addition to your routine especially when sourced from a trusted company like ETHA. Both plants can help to provide you with a boost in mood and energy. This new product may be a good replacement for your morning coffee and may give a boost in energy and provide you with a positive mood. This can be a great way to begin a productive day.  
Likewise, this product contains antioxidants and anti-inflammatory properties that may stimulate and strengthen your immune system and may improve overall wellness. 
Moreover, ETHA SLIM FIT BLEND may aid in weight loss, weight maintenance, and your exercise routine. Kratom has been reported by some as an appetite suppressant and Matcha can help increase your metabolism and help you to burn more fat. Matcha naturally increases your body's endurance, metabolism and heat production during cardio and resistance training which tells the body to burn more calories, specifically fat calories, resulting in fat loss. Those using Matcha regularly can burn up to four times more calories per workout session. Likewise, Matcha is rich in catechins, which have been shown to positively affect a person's overall body weight and body fat mass. Increased metabolism, more fat burning, and appetite suppression, and all without synthetic, over-stimulating weight loss pills. You cannot get better than "Slim Fit Blend – Matcha and Kratom".   
---