ETHA on Everything Kratom Podcast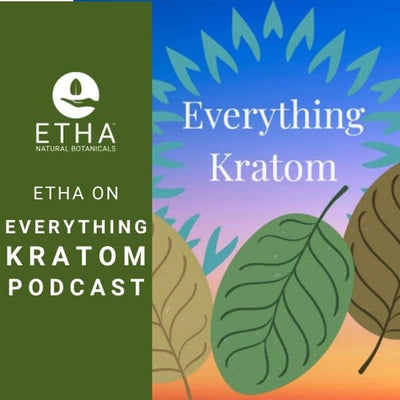 ETHA is excited to announce our collaboration with the "Everything Kratom" Podcast. Listen every Wednesday for ETHA's segment on the podcast. You will be able to catch ETHA co-founders, Victor and Alexander, as they talk about kratom and answer questions from the podcast's listeners. 
Everything Kratom Podcast
Everything Kratom Podcast is about exactly what it sounds like: anything and everything…Kratom.  
This podcast was started because Jaime the host "wanted to learn more about the plant that has become important to so many people around the world, including himself, for a multitude of reasons." 
Please tune in and join this journey of "learning more about anything and everything kratom". Please follow the show and please make sure to SUPPORT the show too! 
This dedication to knowledge and exploration, and of course learning about our favorite plant, makes the Everything Kratom Podcast an ideal partner for ETHA and a perfect place to host Victor and Alexander who have used their personal journeys with chronic pain to guide them to create the most trusted natural medicines. 
Check out ETHA on Episode 34. Victor and Alexander will be speaking about The ETHA Difference. They will cover some of the glaring "issues" and unfortunate violations of the kratom industry and how we at ETHA work tirelessly to change and ultimately eradicate them. 
Please let Jamie and Everything Kratom Podcast know if you have a question about kratom you want ETHA's co-founders to address. And please support the podcast and continue to check out ETHA's co-founders on the show.
Listen and LIVE FULLY!
---