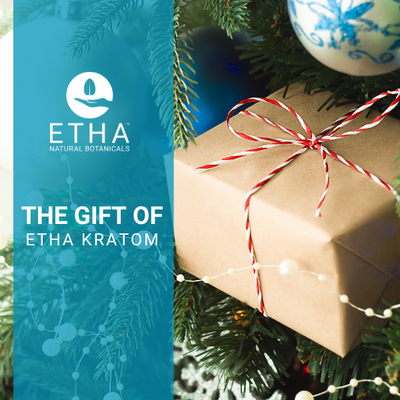 The Gift that Keeps on Giving
This Holiday Season forget traditional, predictable and boring gifts. Instead, celebrate the Holidays with ETHA and make it all about your family, friends and colleagues and their health. The best gifts are ones that keep on giving with long-term health and well-being. So, celebrate the special and important people in your life this year by giving them the gift of wellness with ETHA. Whether they struggle with stress, have trouble sleeping, or maybe they need that occasional boost of clean, natural energy, ETHA has you covered with our unique all-natural ETHA premium kratom, pressed tablets and kratom teas. It's all here, so spend less time searching for the perfect gift and more time celebrating. 
The kratom plant has over 40 naturally-occurring bioactive alkaloids, of which perhaps the most well-known is mitragynine.  Traditionally, day laborers in Southeast Asian countries chewed on kratom leaves to help with pain and energy. Today, we simplify the process with our easy to take unique ETHA kratom pressed tablets. If the important people in your life could use some support for occasional pain or a natural boost of energy levels†, celebrate them with our SunRise and Maeng Da kratom products. 
For those "get-up-go-get-'em and "GO GO", or the super caffeine drinkers in your life, try our incredible DayBreak Premium Kratom. They will zoom through their day with the energy, vitality and boost they seek and love.
Other note-worthy alkaloids in kratom may support the natural response to stress and muscle tension. † Additionally, kratom alkaloids may support the body's response to inflammation, relieve muscle tightness from overuse, and promote relaxation.† Help your beloved friends and family relax, unwind, and even get some much-needed zzzz's during this hectic time. 
Introduce them to our SunSet, NightFall and MidNight Dream kratom blends. Then sit v and watch them toast their newfound bliss for days and evenings to come. 
Whether it's notorious lists, work projects, or endless bills, the stresses of everyday life can overwhelm and create imbalance. As a result, any such imbalance can compromise our very ability to live a full and healthy life. The chaotic Holiday Season only magnifies these issues.
You can find a possible solution and great gift options with ETHA yet again. Don't let a hefty to do list derail your loved one's focus and productivity. Gift our MidDay Gold kratom as a way to help increase focus naturally. † We formulate this blend to encourage concentration and support a productive workday. † Help your family and friends tackle those work projects and their own holiday shopping madness so they can kick back and celebrate with you. 
Or perhaps, Revitalize may make a great gift for an overall wellness routine, as it may help support hormonal balance and support blood pressure. † Additionally, it may help reduce anxiety and stress, and boost overall mood. † 
The important people in our lives are important for a reason. Many of them give and sacrifice so much each and every day of the year. During these Holidays, you can finally give back with the gifts that keep on giving. Give the gifts of Wellness! 
Celebrate them. Celebrate with them, and most of all Live Fully! 
---