Federal Kratom Consumer Protection Bill 10.2022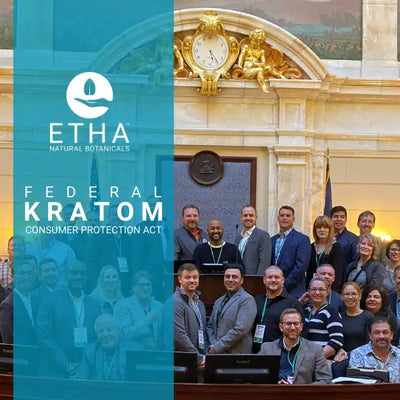 What is the Kratom Consumer Protection Act?
The Kratom Consumer Protection Act (KCPA) is a bill that regulates the kratom industry throughout the United States. The Act addresses the following areas:
Manufacture, distribution, sale, and possession of kratom

Manufacture, distribution, and sale of contaminated or adulterated kratom

Any age limits

Fines and penalties

Testing kratom

Labeling kratom products
The purpose of the KCPA is to ensure kratom vendors are only supplying high-quality products that do not contain contaminants. 
The Kratom Consumer Protection Act has already been passed in the following states: Utah, Georgia, Arizona, Nevada, Oklahoma, and Missouri. The American Kratom Association (AKA) is laying the groundwork for similar KCPA bills in the following states: Oregon, Idaho, Colorado, Kansas, Illinois, Texas, Arkansas, Louisiana, Mississippi, Alabama, Tennessee, Florida, South Carolina, North Carolina, Virginia, Pennsylvania, New Jersey, Rhode Island, New York, Ohio, Michigan, and Wisconsin.
The Kratom Consumer Protection Act will be filed federally in October of 2022. 
Why is the KCPA Important?
Most products for consumer use must pass regulations before being allowed for distribution and sale. Our food has them, as do our drinks. Even pet food has regulations. The regulations are there for consumer protection.
The KCPA is a bill that aims to show that kratom is safe for consumption when grown, distributed, sold, and consumed correctly. Without these legal processes and legislation, the market would be flooded with dangerous products that put the public at risk. Kratom users all over the United States must feel safe and be safe when using this powerful and amazing healing superfood. This is why the KCPA is so important. Without the KCPA we could see a huge influx of unregulated, potentially dangerous contaminated kratom in the market. This means our kratom could contain anything!
When we discuss kratom the most important thing is that all kratom users are SAFE. Kratom has been a medicine and superfood for hundreds of years and therefore needs to be kept that way. Safe, clean, uncontaminated and effective. If kratom is mixed with other potentially dangerous substances everyone suffers. This is why the KCPA is so important.
ETHA Natural Botanicals is a firm supporter of the KCPA.
We believe that an open and objective communication is critical to building trust. That is why we provide access to all lab results on our site. Not only that, but we also publish lab results on each individual pouch we sell and provide QR codes for easy access. 
Though the botanical industry has taken significant strides forward, it still has much room to improve. Unfortunately, some vendors have been exposed for providing false test results as well as copy/pasting other test results and applying them to their own products. As part of The ETHA Promise, we put much emphasis on transparency to educate our customers and train them into savvy consumers.
Therefore, we emphasize proper labeling on all our products. This includes weight, complete list of ingredients and of course, access to current and accurate lab results.  
ETHA customers remain loyal because ETHA 
is a trustworthy company 
and ETHA's products always strive to be
 safe to consume
. 
At ETHA we take great pride at maintaining an above G
ood Manufacturing Practices (GMP) manufacturing facility, 
but also having implemented these standards from the very inception of the company.
 And we don't stop there, but continue to build on and improve our standards and practices
.
All this extra work does cost additional time and money, but ETHA cares about its customers and will continue to do everything necessary to offer a safe and quality product. We fully support the principles and regulations of the KCPA and will always work to abide by them.
---