ETHA Ribbon Cutting Ceremony with Vista Chamber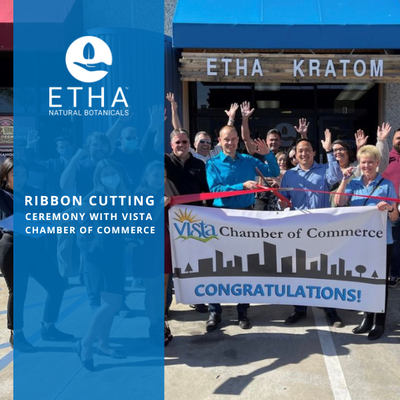 The Vista Chamber of Commerce officially welcomes ETHA Natural Botanicals (ETHA) to Vista, CA. ETHA, alongside the Vista Chamber, commemorates ETHA's expansion into a bigger office and warehouse space and additional front-store retail presence. 
ETHA® offers individuals struggling with pain, low energy, and poor sleep an all-natural kratom alternative that is lab tested, heat-pasteurized, and contains no fillers, binders, or additives of any kind. Moreover, unlike opioids and other prescription medication, kratom's natural composition thwarts addiction and tolerance build up from its use.†
The Vista California Chamber invited members, colleagues, customers, and nearby businesses to join ETHA's official Ribbon Cutting Ceremony to recognize ETHA as an esteemed business in the city of Vista, CA. This important event toasts ETHA's many accomplishments thus far and, moreover, marks confidence in ETHA's limitless successful future. This esteemed event allowed local businesses and nearby residents to join the ETHA staff in celebrating a momentous milestone in ETHA's journey.  It also allowed people to see how kratom is grown, manufactured into products, and sold in a store.
The Ceremony began with a short welcome speech from a representative of the Vista Chamber, followed by words from Victor Chung, ETHA's CEO. Present in the crowd was a representative from the office of 
Mike Levin, Member of Congress 49
th
 District
 who presented ETHA with a 
Certificate of Special Congressional Recognition
. Also present was a representative from the office of 
Jim Desmond, County of San Diego, Fifth District
 Supervisor who bestowed ETHA with a 
Certificate of Commendation
. 
ETHA® Natural Botanicals is a Southern California business with a mission to deliver consistent, all-natural botanical products and extraordinary experiences to its customers. ETHA is a manufacturer and distributor of natural botanicals organized in 2017 to fill a void in the marketplace to provide consumers with safe, high-quality, and effective botanicals that exceed current testing standards and adds transparency across the supply chain. The company explores new knowledge and scientific research that helps consumers access natural medicine. 
What sets ETHA apart is that ETHA does things that no other company does to ensure quality and safety. ETHA harvests from several different forests and lab measures alkaloids and uses the data to determine which harvest goes into which premium blend. That way their premium products like SunRise and SunSet are always consistently similar. ETHA lab tests every single harvest that enters its USA facility both in its own ETHA Labs, as well as through 3rd-party, independent labs for heavy metals, alkaloid profile, and possible adulteration. Subsequently, ETHA quality inspects every harvest with its above GMP-compliant team and puts all leaves through a precision pasteurization process to eliminate harmful biologics. Lastly, ETHA grows its own kratom in Vista.
Implementing what ETHA calls a "hands-on" approach to every aspect of the manufacturing process, ETHA gives buyers a new way to enjoy kratom. ETHA's convenient, ultra-compact kratom tablets let you take powerful doses of kratom in easy-to-swallow form. This helps ETHA reach buyers who may struggle with dose measurements and methods of kratom use that may be messy and/or difficult.  
The Vista Chamber and respected members of the Vista community proudly celebrated ETHA's accomplishments and wished the best for what is to come. As stated on the Certificate of Commendation from the office of Jim Desmond "we thank you (ETHA) for your commitment to the health and wellness of the North County San Diego communities." And "best wishes on the continued success of all you healing products." 
---