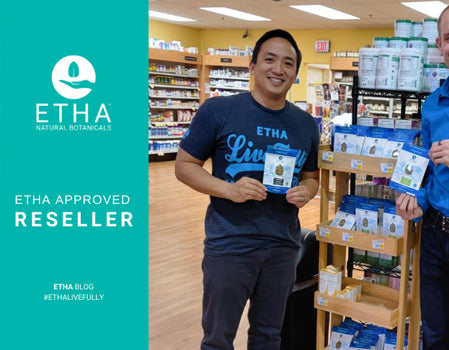 ETHA® Approved Reseller
Become and ETHA Approved Reseller
Approved Reseller Benefits
Our Reseller Partners value high growth wellness products that can cater to every customer niche.  As an approved ETHA Reseller you will enjoy the following benefits:

 
Products that improve customer retention rates – up to 

60% product margins

 

Products that improve repeat purchase rates – 

96% customer satisfaction and best in class monthly repeat customer rates

 

Products that are superior in quality – 

world's best 100% all-natural Kratom products

 

Products that help people manage their pain 

naturally

 
ETHA Reseller Difference
As an ETHA Approved Reseller you will be the ONLY provider of whole-leaf botanicals pressed into convenient tablets with no additives, fillers, or binders. Every harvest that enters our facility goes through lab testing at both our own ETHA labs and 3rd-party, independent labs. We label each bag with test results and make all the lab results available online. Additionally, our USA-based facilities observe strict manufacturing procedures that are above current Good Manufacturing Practices (GMP).  Consequently, ETHA is an approved AKA GMP vendor. Lastly, all of our botanicals go through ultra-high heat pasteurization (the leaves are heat treated to eliminate potential pathogens like salmonella). Therefore, you get only 100%, all-natural products. And, since ETHA is local, we can provide our Approved Reseller partners with fresh inventory to meet the demands of any size. 
No more waiting, delayed shipments or customs hassle. 
Become an ETHA Approved Reseller: 
Email – retail@ethalivefully.com 
Call – (800) 862-0341 (M-F 10-5pm PST) 
As an ETHA Approved Reseller, you have access to our exclusive wholesale pricing for ETHA's entire line of products.  Coincidentally, we also offer Private Label options, so you can promote your own brand with ETHA quality assurance.  Lastly, as an ETHA Approved Reseller you will have full use of our digital assets and of course, our team of designers can help you with point of purchase displays and marketing collateral. 
Whether you are running a retail store or helping people at your health facility, add ETHA to your offerings and enhance your business.  
ETHA is here to help you succeed. 
---