Best Kratom Legality: World Health Organization Against Kratom Review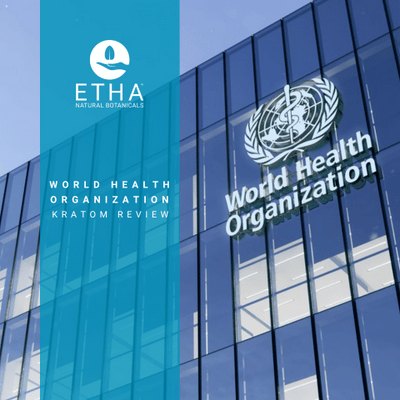 WHO Recommends Against Kratom Review
The initial reports from the World Health Organization ("WHO") Executive Committee on Drug Dependency indicate that "there is insufficient evidence to recommend a critical review of kratom." This is a huge win for the kratom community in the fight against scheduling this amazing botanical. As such, avoiding a WHO critical review or outright scheduling is of utmost importance for countless kratom consumers all over the world!
What is the World Health Organization?
The World Health Organization (WHO) is a specialized agency of the United Nations responsible for international public health. The WHO Constitution states its main objective as "the attainment by all peoples of the highest possible level of health". Headquartered in Geneva, Switzerland, it has six regional offices and 150 field offices worldwide.  Created in 1948 as part of the United Nations, the WHO has a broad mandate to guide and coordinate international health policy. Today, the WHO monitors and coordinates activities concerning many health-related issues, including genetically modified foods, climate change, tobacco and drug use, and road safety. The WHO is also an arbiter of norms and best practices. Since 1977, the organization has maintained a list of essential medicines it encourages hospitals to stock; it has since made a similar list of diagnostic tests.
Therefore, this decision by this organization is monumental. Mac Haddow, senior fellow on public policy for the American Kratom Association (AKA), stated that this is an "all around great outcome for science" that he hopes will translate into regulatory action within the U.S. Food and Drug Administration (FDA) on kratom.
The FDA has warned consumers not to use Mitragyna speciosa, commonly known as kratom, for years. Likewise, the FDA has systematically battled to get kratom listed with federally prohibited drugs, such as heroin and morphine.  
Nevertheless, as it stands, kratom is considered a super food and not scheduled under the federal Controlled Substances Act or under international drug treaties to which the U.S. is a party. FDA has considered putting restrictions on the substance, but has faced furious resistance and has been unable to do so at this point. 
There was speculation that the FDA would use the WHO convention as an opportunity to get prohibition enacted internationally, since it hasn't been able to impose a ban on kratom domestically. A move that the United States would have been compelled to comply with. 
But as it stands, kratom advocates and consumers celebrate the WHO decision.
Importance of the WHO Decision on Kratom
The WHO decision was based primarily on scientific review of the risk of dependence, abuse potential and therapeutic applications of kratom. Nevertheless, we cannot overlook the roughly 80,000 people who submitted comments to the panel, sharing their perspectives and experiences with kratom. 
"People report using kratom to self-medicate a variety of disorders and conditions, including pain, opioid withdrawal, opioid use disorder, anxiety and depression". "Kratom is being used as a part of traditional medicine in some countries." 
The decision is a huge validation of the effectiveness of consumer advocacy and science working together. Both the advocacy and the ongoing scientific research seem to have weighed heavily in the decision. 
We cannot overstate the importance of this WHO decision. We avoided critical review and outright scheduling of kratom. But the fight for kratom is far from over.  
In the United States specifically, part of the problem with kratom is a poorly regulated market. The FDA systematically ignores scientific findings AND wastes time, money and resources waging an unnecessary battle against kratom. But additionally, the FDA has done nothing to take on the actual problem of bad actor kratom vendors who adulterate kratom products with dangerous substances like fentanyl (which IS approved by the FDA).
It is up to the kratom community to continue the fight for kratom development, oversight and effective regulation. Kratom science must continue and new knowledge and information be made transparent to the public. Kratom consumers must show support with kratom advocacy through letters and personal stories. And lastly, high quality kratom vendors like ETHA Natural Botanicals, must continue to manufacture a clean, tested, superior product backed by legitimate laboratory research. 
---