Best Gifts for Father's Day: Best Kratom Online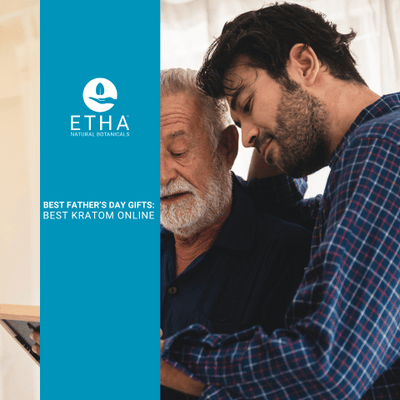 Father's Day and Kratom
This Father's Day forget traditional, predictable and boring gifts. Instead, celebrate Father's Day with ETHA kratom and make this holiday all about the men who tirelessly take care of us. Whether you're celebrating dad for many years, or this is his first Father's Day, the best gifts are the gifts that keep on giving, by bringing long-term health and well-being. So, celebrate the special men in your life this year by giving them the gift of Living Fully with ETHA. Maybe he struggles with stress, needs help relaxing, or maybe he needs that occasional boost of clean natural energy, we have you covered with our unique all-natural highest quality kratom. Spend less time searching for the perfect gift this Father's Day and more time enjoying all our Fathers.
Kratom for Pain and Energy
The kratom plant has over 40 naturally-occurring bio-active alkaloids, of which perhaps the most well-known is Mitragynine. Mitragynine is a vasodilator that helps oxygen and blood circulate through your body naturally boosting energy, and even improving mood. Traditionally, day laborers in Southeast Asian countries, chewed on kratom plant leaves to help with pain and energy, but today, with our easy to take ETHA kratom pressed tablets, pain and energy support is at your fingertips. If the father in your life could use some support for his occasional pain or needs a natural boost of energy, gift him with our kratom for pain and energy blends like our SunRise and Maeng Da. 
Kratom for Rest and Relaxation
Other noteworthy alkaloids in kratom like Speciogynine and Paynanthine may mirror effects similar to muscle relaxers and may support natural response to stress and muscle tension. Additionally, kratom's various powerful alkaloids may support response to inflammation, relieve muscle tightness, and encourage relaxation. Help your father relax, de-stress and unwind with kratom for rest and relaxation. Introduce them to our SunSet, NightFall and MidNight Dream kratom for rest and sleep. Give your father the gift of newfound bliss with ETHA.
Kratom for Anxiety and Focus
The stresses of everyday life can overwhelm, create imbalance, and wear on even the toughest of dads. As such, this imbalance may compromise the very ability to live a full and healthy life. Not to fear, ETHA has kratom for anxiety and stress. Don't let a hefty to do list and endless responsibilities derail his focus and productivity. Rather, help your father with our kratom for focus and natural anxiety relief. We formulate these blends to encourage concentration and support a productive day. With ETHA you can help him tackle those endless projects so he's free to celebrate and LIVE FULLY!
Kratom that (actually) Tastes Good
Or perhaps, your Father is just looking to improve his overall patience and mood. ETHA brewed kratom drink ReFresh may make a great gift for those fathers that need a little extra energy and mood boost, as they chase their kids, go on hikes, or sit through all day kid birthday parties. ETHA's co-owner Victor Ioves ReFresh brewed kratom drink before he hangs out with his incredible, nonstop energy boys. ReFresh brewed kratom drink adds a nice boost of mood and energy, helps improve patience and best of all, it is kratom that actually tastes good!
On this Father's Day, let's give back for all the sacrifices they make. Let's give them kratom for wellness and the gift to LIVE FULLY.
---