Best Kratom: Kratom Liquid Concentrate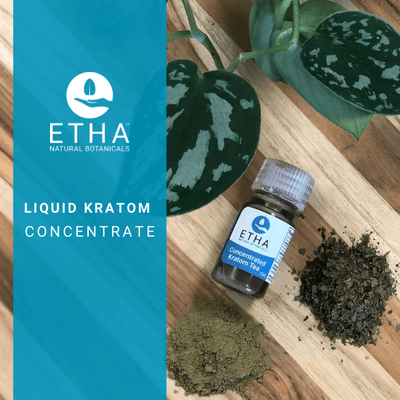 What are ETHA Liquid Kratom Concentrates?
ETHA Natural Botanicals' Liquid Kratom Concentrate is a convenient 15 ml, 3 Servings way to get your dose of concentrated mitragynine alkaloid extracts. This concentrated easy-to-take super food product supports occasional discomfort and promotes natural energy levels, focus and response to stress.†  In other words, it not only naturally boosts your energy levels, like most "shots" out there, but provides all around well-balanced support.† 
This product supports natural, clean energy, but moreover, it supports overall wellness and health.† 
SHOP LIQUID KRATOM CONCENTRATE
ETHA Concentrate vs. Energy Shots
There are many types of "shots" out there. In fact, the market is flooded with them. These products are convenient, portable, mostly effective and very hip right now. So, what exactly sets ETHA Concentrates apart from all the others?
Most of the popular shot drinks on the market right now only focus on increasing energy and mood. ETHA however, strives to provide a well-rounded approach to overall health. As such, we are not taking one alkaloid (mitragynine) and boosting it, but combining a blend of all the beneficial alkaloids in kratom and concentrating them.
Additionally, unlike most of these drinks that provide and initial boost that can quickly taper off to a "crash", our product offers an extended release of benefits that may last for hours.
One of the major drawbacks of common energy shots are they are loaded with excess sweeteners or sugar, taurine, caffeine, and chemicals that are hard to pronounce. ETHA Liquid Kratom Concentrates are made from only four all-natural ingredients: mitragyna speciosa leaf extract, kosher vegetable glycerin, reverse osmosis water, and citric acid.
ETHA Liquid Kratom Concentrates are all-natural, long lasting, and promote natural energy levels while contributing to overall good health.†
ETHA Concentrates, Convenient and True
Above all else, the ETHA quality you trust and love remains true. Our ETHA Liquid Kratom Concentrates are always lab-tested with Certificates of Analysis that you can easily look up on our site. 
Each shot is a small, easily portable 15ml bottle with 3 servings. So small in fact, its TSA appropriate! You can consume the shots on their own or add to your favorite regular tea and immediately transform it into a functional drink. 
Lastly, of course, we never add any superficial ingredients, additives, fillers, or binders. Therefore, the product remains simple, pure and true.
Give our Liquid Kratom Concentrate a try and take on your day with confidence!  
SHOP LIQUID KRATOM CONCENTRATE
---