ETHA is a Military Trusted Business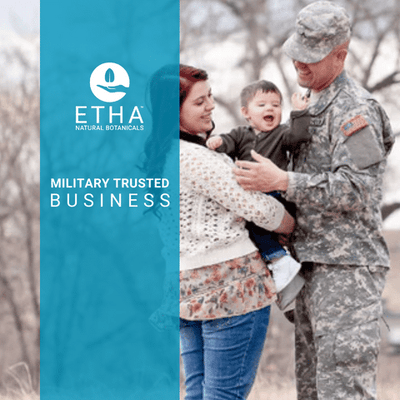 Military Trusted Business
ETHA Natural Botanicals is proud to have been selected as a military trusted business. Our ETHA family is honored to serve the active military community by offering a unique military discount on all ETHA products to all brave military men and women and their families (see below).
Initially, it started with our desire to help soldiers who are relocating to new bases. Given our close physical proximity to the military community, we decided to expand our support to all military. This led us to become a military trusted business.
Our ETHA USA based facilities are located in beautiful Southern California, which houses the nation's largest concentration of military personnel. Not only that, but ETHA proudly makes all its products in the USA.
Our team has family who have and continue to proudly serve in the military. We cater to the needs of military families and understand the important role health plays in keeping family continuity during deployments.
If you are active military or a veteran, we thank you for your service and offer you 25% off and free shipping on all ETHA products – CODE – MILITARYLOVE
Difficulties of Military Life
As an individual active in the US military, your daily life can be extremely stressful and fatiguing. Your daily duties may involve manual labor or you may be responsible for the command of others. In any case, such hard tasks can take an incredible mental and physical toll. Not only that, but the constant relocation from base to base and deployment can add more stress and physical exhaustion.
Constant relocation is extremely difficult on any individual, especially when you have to uproot and relocate your entire family. Not to mention, the continued responsibility to serve your country.
Military spouses and children can experience just as many difficulties as the active service family member. The spouse and children have to be tough when the service member leaves to work in dangerous places for long periods of time. You have to be okay with missed birthdays, anniversaries, holidays and even births.
Likewise you've got to be okay with moving half way around the world, letting go of the control of your life and constantly leaving close friends and family behind as you are moved regularly from base to base.
The men and women of the military and their families make a huge sacrifice when they enter this life. This partnership with MyBaseGuide.com is our way to show appreciation for all that these men, women and their families endure.
Ally Against Stress and Fatigue
No matter where military life may take you to serve our country, ETHA is here to help. Our botanical products can give you fast-acting, clean energy and focus while helping you to alleviate occasional pain.†
Whether it is the daily stresses of your job or the constant relocation and travel, our SunRise Kratom may alleviate your occasional pain while our MaengDa Kratom may naturally boost your energy within normal levels†. Constantly uprooting your family, missing birthdays, holidays and carrying that weight on your shoulders can mentally drain you. As such, turn to our MidDay Gold Kratom to naturally support your focus, promote energy and support a healthy response to stress.†
To be a member of the US Military is a huge honor. However, great things sometimes come with a hefty burden.  MyBaseGuide.com and ETHA are here to help ease that burden.
---