Search For Your Product's Certificates of Analysis
FIND YOUR LAB TEST CERTIFICATES
"One of our company's belief  is that open and objective communication is critical in building trust. That is why ETHA Natural Medicine publishes lab test results on each pouch we sell and on our website. We also share research that comes out of our ETHA Labs. By supporting scientific progress, we hope people have the information to manage their health and wellness." – Co-Founder, Alexander Karp
HOW TO FIND MY HARVEST LOT #
When you flip any ETHA Naturals Botanical package over to the back, you will notice a label with a Harvest Lot number.
This will be the number you'd input in the field above to search for and find your lab test certificates with results on quality and alkaloid content.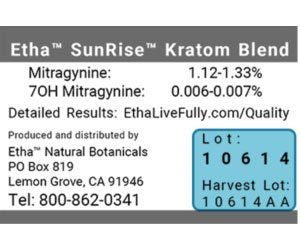 ETHA LABS
The ETHA team has over 40+ years of R&D experience with Fortune 50 companies. Likewise, we have been extensively researching and testing botanicals such as kratom and continue to improve and build on our strategies, processes and techniques. Our R&D team never stops pushing itself and will continue to lead the industry in open and objective communication.  As a result, we only provide you with 100% validated products. We guarantee kratom purity, origin, process and production of the highest standards. Our team works harder and smarter so you can have the peace of mind you need to LIVE FULLY!
LEARN MORE