BEYOND GOOD MANUFACTURING PRACTICES (GMP)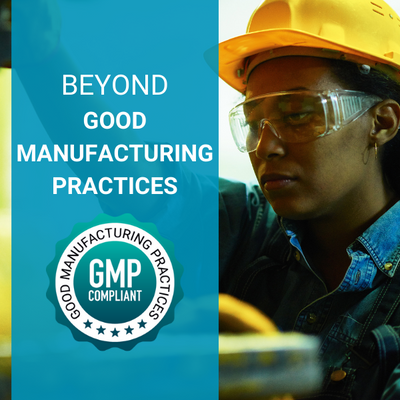 Beyond Good Manufacturing Practices (GMP)
GMP Vendor from Inception
It is imperative for today's consumers to know that the products they purchase are safe. It is equally important that people get exactly what the vendor claims their products to be. Therefore, it is important for companies to have strict procedures and manufacturing practices in place to ensure that quality is built into the manufacturing process at each step. It is precisely these procedures and practices that ensure that consumers are getting pure and compliant products from start to finish.  
Good Manufacturing Practices (GMP) are requirements for conforming to the guidelines recommended by agencies controlling the manufacture and sale of specific products. However, it is important to note that these guidelines are only the MINIMUM standards a manufacturer must meet to ensure consistent, quality product, and prevent any harm to the consumer. 
Some functional examples of GMP include:
well-maintained facilities

properly maintained equipment

fully trained and qualified employees

reliable and reproducible processes.
Although the specific rules and practices for each industry are different, companies that implement Good Manufacturing Practices have chosen to abide by these minimum standards of care and as such, seek to better provide consumers with trust and confidence as to quality and safety of the purchased products.
Beyond GMP
At ETHA we have always been about superior quality and superseding standards. Therefore, we choose to go above and beyond the minimum standards and surpass the threshold requirements set by GMP.  Although we take great pride in having implemented GMP standards from the very founding of the company, forward progress and upward momentum motivated us to keep striving. 
From the very inception we have placed meticulous attention in all things; from the ETHA logo itself, to the diligent lab testing, and to the superior quality of all ETHA products. Therefore, it makes perfect sense that not only does ETHA abide by the basic GMP standards, but in fact, ETHA serves as the driving force for setting these standards in the first place for the industry. 
But at ETHA we never stop progressing. And as such, we set the GMP standard, we met that minimum standard and then we raised the bar even higher.
The GMP program is one of the safeguards to verify if a vendor abides by a higher level of manufacturing committed to the safety of their employees and customers.  Therefore, as a consumer, you should only purchase from vendors that at the very least meet this basic manufacturing standard. 
As mentioned, ETHA has been at the forefront of creating, implementing and memorializing these standards.
Some examples of ETHA's exceptional manufacturing standards include:
quarantine of every harvest until lab clearance
triple filtration
assigning unique harvest and lot numbers to every product and raw material
Logging any incidents that may occur with a product in order to root-cause analyze and correct
Once a harvest enters our US facilities, we immediately quarantine it until we clear it free from any adulteration and any harmful biologics using our proprietary triple-filtration and ultra-high heat pasteurization processes and lab testing. Typically, the majority of kratom vendors rely directly on the word of harvesters as testament of the purity and quality of a particular harvest. As a result, the consumers of those products are always taking somewhat of a gamble. ETHA does things differently. On top of our quarantining, lab testing, and filtration, ETHA goes through the extra step of ultra high-heat pasteurization to eliminate harmful biologics like salmonella before the harvest is made into a product for sale. Consequently, this does cost ETHA not only more time, but money, but does produce superior ETHA quality.
Lastly, we have set up a series of standards and practices when it comes to individual staff training, responsibility and call to action. We effectively train each member on the production team within their unique area of operation, create detailed procedural processes, and a chain of command to follow. We empower and encourage our staff to act within their designated realm, but continually train and further develop their skills and expertise. Finally, any time a situation arises that has not happened in the past, new step by step instruction and procedures are documents, implemented and memorialized for the future. This is how we continue to evolve and provide the very best kratom products.
Beyond the Minimum GMP Standard
ETHA was there at GMP inception and helped set the standard, but were not done and have not stopped our constant pursuit for superior quality. ETHA has gone far beyond basic GMP standards to be the very best kratom manufacturer. Our Research and Development team never stops working on new concepts, products and projects. In addition to developing new products, we are bringing modern technology to advance the kratom industry as a whole. One such way is through tracking and traceability with RFID tags, which is the ability to track the movement of a particular harvest from the source throughout its entire life cycle. RFID tagging is a system that allows the tracking of items, such as a bag of leaves as they are picked from the tree and make its way to its final destination and then into a product.
The importance of such an accurate tracking system provides us with a plethora of information. It allows us to identify soil and temperature conditions, but moreover it allows us to prevent data alteration and manipulation, as well as adulteration of product. We are looking at Hyperledger and artificial intelligence technologies to process all the kratom data and keep it all secure. If the kratom industry is to move forward, new knowledge is vital and ETHA is at the forefront.  Our transparency is one of the many reasons that sets us apart from others and gives our customers confidence in our products. We set our quality procedures and controls in place to ensure that we are the most trusted and reliable source for all of your natural botanical needs.
---